Pianos in Parks
Spreading joy with public pianos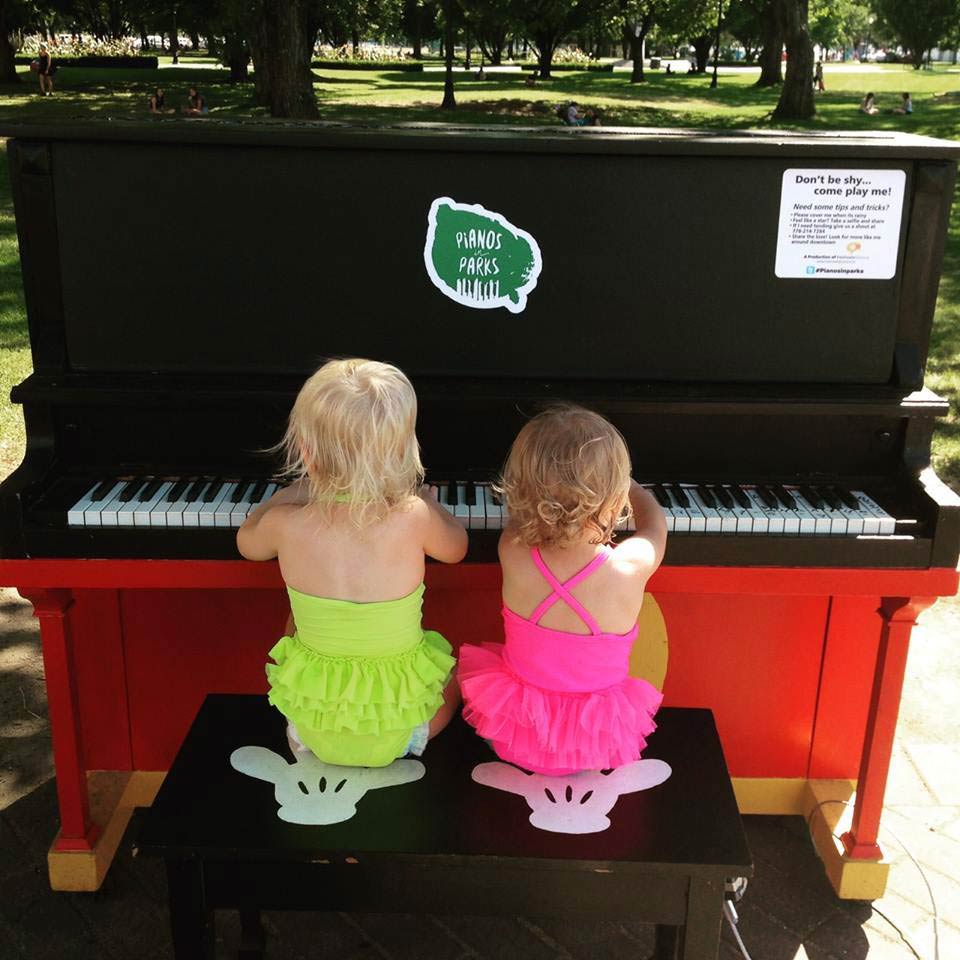 "Pianos in Parks" is a part of the international "public pianos" movement whose purpose is animating and decorating public spaces through visual art and community interaction.
Each year we showcase between 5 and 8 free to play pianos. The pianos are placed in high profile, accessible, public spaces throughout downtown Kelowna and Rutland to encourage residents and visitors to showcase their 'inner Mozart'.
The pianos are typically available to play from mid-June to early September and can be found at:
Stuart Park, 1414 Water Street
Artwalk (between the Library Parkade and Kelowna Courthouse)
Art Commons (at the Rotary Centre for the Arts)
Roxby Square in Rutland, Hwy 33
Kerry Park (beside Ogopogo)
NEW – Pandosy Street in the Pandosy Village 
NEW – 1598 Pandosy Street (beside Pulp Fiction coffee)
Painted by local artists in a collaborative effort, the pianos have showcased the artwork of local visual artists such as Jolene Mackie, Alex Fong, Mark Ocampo, Shannon Wilson, Bobby Vandenhoorn, Rutland Secondary School art students, and members of the Festivals Kelowna staff team.
Watch for the beautiful work of the 2023 featured artists: 
Stefania Miro
Nex Fletcher
Shannon Lester
Jamie Pisak
Bobby VanDenHoorn
Sara Richardson
"Thank you Pianos in the Park. Awesome program! This [Kelowna Cemetery piano] is my favorite piano and my favorite location. So very peaceful and scenic. I hope that this piano finds its way back here next year. Thank you for all that you do with this program. It brings out the music in us for the enjoyment of others. Well done!"
Leslie W.
Note left on Cemetery Piano
"Pianos in the park is by far the most brilliant idea I've ever had the experience of being apart of music is a gift that should be free for everyone to be a part of and now it is so thank you to pianos in parks for making this happen"
Kelly D.
via Facebook Reviews
A very special thank you to our key program partners, without whose assistance "Pianos in Parks" would not be possible:
Wentworth Music, 2023 Presenting Partner
Our 'piano man' Elmer Epp, Okanagan Piano Services
City of Kelowna, Parks and Cultural Services departments
Our 2023 piano ambassadors and partners